Technical Tours
Tour 1: Testing Laboratory and Manufacturing of Solar Cooling Systems
On October 15, participants will be able to visit the branch testing center of China Academy of Building Research (CABR), the solar cooling system and a typical solar manufacture.
CABR testing laboratory
NP Solar Ltd.
Solar cooling system, developed by CABR, NP solar and YAZAKI


Date: Wednesday, October 15, 2014
Fee: 10 €
Schedule:
1:30 PM - 3:00 PM CNCC to CABR branch testing building (by bus)
3:00 PM - 3:30 PM visit solar heating and cooling system
3:30 PM - 4:00 PM visit testing laboratory
4:00 PM - 4:30 PM visit production line of NP solar
4:30 PM - 6:00 PM back to CNCC (by bus)
© Vicot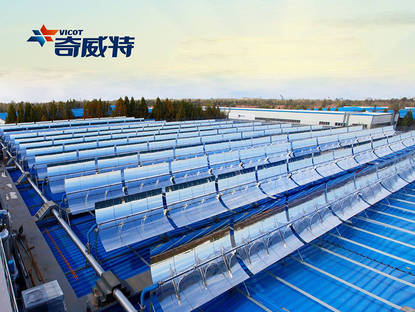 Tour 2: Vicot - Solar Thermal Cooling, Heating DHW & Steam System
On October 16, participants will have the opportunity to visit the Vicot Air Conditioning Co, Ltd, a high-tech corporation specialized in R&D, production, sales and service of renewable energy products.
Solar absorption chiller and heat pump
Solar absorption central heating
Solar absorption central hot water
Solar boiler


Date: Thursday, October 16, 2014
Fee: 15 €
Schedule:
10:00 AM - 11:00 AM Dezhou East Station to Vicot (by bus, 20 min)
11:00 AM - 11:20 AM visit the demonstration base
11:20 AM - 11:30 AM visit the solar cooling and heating project on the rooftop of No.4 workshop
11:30 AM - 11:40 AM visit the concentration mirror fully automatic production line as well as high and medium-temperature vacuum tube production line
11:40 AM - 12:30 PM visit commercial projects in Dezhou (cooling, heating and heat treat process)
12:30 PM - 01:30 PM Buffet Lunch break
01:30 PM - 03:00 PM Technical symposium
03:00 PM - 04:00 PM back to Dezhou East Station (by bus)


Transportation
Meeting point for the technical tour 2 is the Dezhou East Station. Participants need to organize their transport to Dezhou by themselves.
We recommend to take the following high speed train from Beijing South Station to Dezhou East Station:
G113 09:05 AM - 10:18 AM
If no ticket was available participants may also take the following trains:
G115 09:16 AM - 10:36 AM
G41 09:33 AM - 10:53 AM
For the return to Beijing we recommend to take the train:
G38 04:28 PM – 05:40 PM
Other options will be:
G130 04:15 PM – 05:35 PM
G168 04:42 PM – 06:03 PM
Please book your train ticket a couple of days in advance!
Train tickets may be purchased online, at the train stations in Beijing or through a travel agency up to 20 days in advance.

If you need assistance with booking your train ticket, Vicot offers to accompany you to the train station in Beijing to purchase your ticket. If you want to take advantage of this offer please let us know and come to the registration desk on Monday, October 13 at 5:30 pm.

Please note: Your passport will be needed for booking a train ticket.